Censors and book burners are not relegated to the borders of the United States; neither is the torch of enlightenment, as it spreads across the globe amid several recent events centered on banned books, such as at the Mandel Public Library of West Palm Beach, Florida, which recently hosted "Banned and Burned: Literary Censorship and the Loss of Freedom."
More than 250 supporters attended the opening week of events for the traveling exhibition from the United States Holocaust Memorial Museum, called "Fighting the Fires of Hate: America and the Nazi Book Burnings."
On November 7, the inaugural event, "Freedom: Spectrum of Banned and Burned" featured an interview with Holocaust survivor Jim Bachner about his time in Berlin during the Nazi book burnings when he was just 11 years old.
The event runs through January 6 and includes displays of period artifacts, documents and news coverage, along with film, video and newsreel footage to provide a look at the first steps the Nazi party took in suppressing the freedom of expression and examines the response from the United States.
A newsreel clip from those burnings was also used in a video that I had edited for Banned Books Week. You can view the video here: Banned Books Week 2011
The foundation will also host a series designed to explore the impact of censoring and banning books including a film series on tolerance, literary censorship, and the Holocaust; banned and burned books discussion groups; live theater with Palm Beach Dramaworks actors portraying authors whose books were burned; puppet shows for children on tolerance; essay contests for high school students; a jazz event featuring censored music hosted by Friends of the Mandel Public Library; corporate evenings; and tours.
Here in Michigan, Nigel Poor's "Remainders: god, sex, and animals talking" at the University of Michigan Institute for the Humanities is a mixed-media photography and sculpture display mounted in the Institute's art gallery.
The result of a California State University associate professor's participation in an exhibit mounted around the theme of banned books, Poor says the subject of banned books wasn't something she'd thought much about in the past.
The thirteen photographs- representing texts running from Louise Fitzhugh's "Harriet the Spy" and "The Autobiography of Alice B. Toklas" by Gertrude Stein to Lewis Carroll's "Alice in Wonderland" and Vladimir Nabokov's "Lolita"- provide her interpretation of the sculptures she's crafted from her washed and molded texts.
"Of course, I had heard about 'Lolita' being banned in Iran, and that in the States some people wanted to ban Harry Potter," Poor told Vhcle Magazine in March 2011, "but I assumed these were isolated and extreme cases. Once I began doing research I was shocked by the amount of books that are still challenged and banned; it is hardly an infrequent occurrence."
"I thought it would be interesting," she says of this photographic project, "to investigate how far these books could go before they lost a sense of potency and meaning. I began to make photographic images of what was left behind. (pictured below: Alice in Wonderland by Nigel Poor)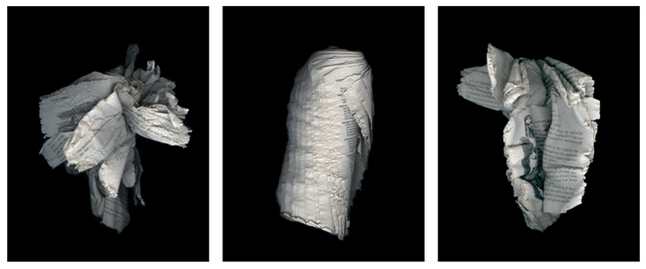 These works of art certainly do communicate her intent. The damage to each text is palpable, yet there's a majesty to these corrupted books that makes each photo visually impressive despite the violence of Poor's art- a reminder of what once that demonstrates her belief that artful potency can be derived through a physical deformation of the written word. In awakening a sense of social consciousness, she illustrates that central meaning will always resist erasure even under the most challenging of circumstances.
The exhibit will continue through December 21 in Room 1010 of the University of Michigan Institute for the Humanities' Exhibition Space 202 S. Thayer St. Gallery hours are 9 a.m.-5 p.m. Monday-Friday. For information, call (734) 936-3518.
On the other side of the world, officials in Turkey plan to lift the ban on hundreds of state-censored publications.
In a collection of essays published in 1959, writer Aziz Nesin made a rather tame declaration: "Socialism is ethical."
Unfortunately for Nesin, a typesetter's error turned the Turkish word 'ahlak' into 'allah,' a mistake that resulted in the assertion that "socialism is God." Half a century later the book remains officially banned- as the trustees of his estate found, to their surprise, a couple of years ago when a dozen copies were confiscated at the airport.
The book is on a list accumulated over more than 60 years of some 2,000 publications that are officially banned in Turkey at the behest of half-forgotten decrees by various courts, ministries, emergency rule officials, and other government entities.
The Office of the State Prosecutor in Charge of Media Crimes confirmed that effective on January 5, 2013 all bans will be lifted, thus freeing 453 books and hundreds of journals, magazines, and newspapers.
"The repeal of the bans will enable society to open a new page," prosecutor Kursat Kayral, said in a statement last week of his decision to waive objections to a repeal of the prohibitions by Parliament.
Most bans referred to outdated editions or obsolete laws, while some of the obscure court orders could not even be found any more, he explained. "The banning of books was neither in step with the information age nor suited to a country that was party to numerous international agreements on free speech and other fundamental freedoms."
Among the works to be legalized are several books by Turkey's greatest 20th-century poet, Nazim Hikmet, including an edition of his collected works, banned by an Ankara court in 1968, as well as a book by the country's most influential theologian, Said Nursi.
The list also includes the Communist Manifesto by Karl Marx; a 1987 edition of the National Geographic Atlas of the World– banned by the government itself for designating Kurdistan and Armenia; a collection of folk songs from the rebellious province of Dersim; a 1996 human rights report by the Turkish Human Rights Association, banned by a state security court; and the Italian comic book Captain Miki, outlawed in 1961 for "leading children astray."
Forty years after publisher Suleyman Ege was sentenced to seven and a half years in prison for publishing the Communist Manifesto in Turkish, readers today can choose between several Turkish editions of the book and even a Kurdish one.
The works of Aziz Nesin have sold more than eight million copies in Turkey to date, including dozens of print runs of his satire collection Azizname, which has been officially banned since 1987.
The question of how significant the repeal of the bans is for free speech in Turkey has provoked a debate.
"Clearly, a new page has been turned," Ibrahim Kalin, an adviser to Prime Minister Recep Tayyip Erdogan, said in an e-mail, adding that the government had introduced "wide-ranging measures for freedom of press" with the judiciary reform package.
Meanwhile, in China, it's a one-step-forward-two-steps-back situation as Chinese readers are flocking to Hong Kong for forbidden literary fruit, such as books on political scandals, high-profile leaders, and love affairs that they can't get elsewhere on the more heavily-censored mainland.
When Hong Kong returned to Chinese control after 100 years of British colonization it maintained most of its western laws and imposed customs; as a result more than 90% of Hong Kong bookstore customers come from the mainland and grab armfuls of titles that they otherwise wouldn't have access to. Some receive citations in the mail for transporting the books back home, but that hasn't stopped a retired chemistry teacher, for example, from reveling in the literary freedom that Hong Kong bookstores offer.
It remains clear that for all the work that has been done to shine the light of knowledge, so much more has yet to be done. So long as a single voice is silenced; so long as the shadows of ignorance and intolerance cast their darkness across the minds of mankind; so long as sentience, reason, and logic are threatened, then none are truly free and the cause must carry on.
For more information on the Banned Books Awareness and Reading for Knowledge project and the complete list of titles covered, please visit the official website at http://www.deepforestproductions.com/BBARK.html
Sources: AnnArbor.com, Pittsburgh Post-Gazette, The New York Times, The Globe and Mail (Canada), Reuters, Sun-Sentinel
© 2012 R. Wolf Baldassarro/Deep Forest Productions